What Our Clients Say
I would just like to thank you and all the team at Roofwise for your help and service in remedying a problem at my home despite me being 11,000 miles away. Collectively you viewed the damage, supplied a number of quotes and carried out the job professionally and far sooner than I could have expected. Thank you very much
Ian Truslove, Leicester
Thank you for the great job your guys did last week on the swithland slate roof to the barn. They were very polite, helpful, professional and left everywhere tidy - many thanks.
Lesley Comelio, Leicestershire
I would just like to say that we are very pleased with the work carried out and that your workmen are a credit to you, working diligently and efficiently.
Mr Kendrict, Coalville, Leicestershire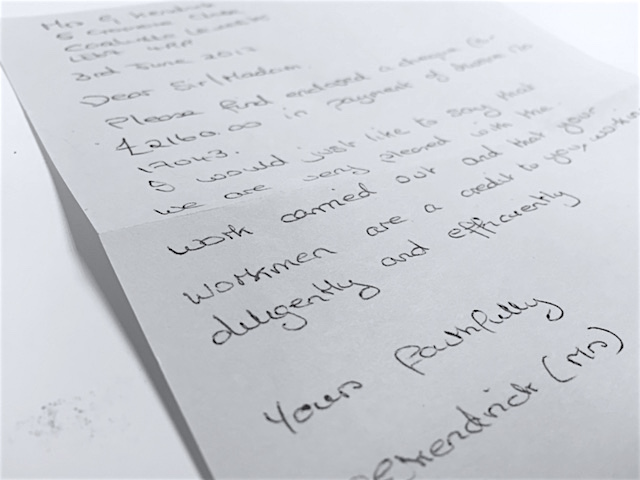 This company have always been prompt and reliable whenever we have needed them, we would recommend them to others.
I have been using Roofwise for over 10 years - and I have never had a problem, their service levels are second to none. All of their staff have a good knowledge of the roofing industry and I cannot recommend them highly enough.
Sean Kerr - Facilities Manager. Leicester
Well, just gotta say what a great service you provided last week. Water absolutely pouring in and you were there within hours. Friendly guys doing the job and now all is well. Brilliant!! What a fantastic result to a miserable situation. Thank you, thank you, thank you..everyone should use Roofwise UK Ltd they are 'The Professionals'. Brilliant!!
Anonymous
I am very pleased with the finished result to my roofs storm damage repairs. The roof looks really smart. I would certinly recommend Roofwise.
H Dunkley, Leicester
What a fantastic company to deal with. We had our complete roof over clad and from start to finish our job was dealt with quickly and very professionally. They were very well organised and all the guys were great to deal with, a real credit to the company. I would have no hesitation to recommend them. I will be using them again to reclad the back of my factory in the near future. And the price was good too!!! Superb!
Philip Highton, Leicester
Thank you for completing the roofing work on the log cabin. Your workman worked very hard last weekend in very difficult conditions. It was incredibly windy. I was really impressed with them. They worked very hard to get on and get the job finished. They didn't even stop for a cup of tea. They were cheerful and friendly. The lead workman had a really good attitude. They did your firm a credit. Please could you pass my comments on to them. Overall as I said I am very pleased with the work, so please could you make sure that you pass on my compliments to the workman.
Anne, Cropston Leicestershire
I Just wanted to thank you for your help today. From the lady who dealt with my initial equiry, to Darren who came to survey the problem, to the two guys who came to fix it, it was all incredibly painless. I'll be recommending you on the basis of this - good old-fashioned service always gets my attention.

Su Roberts, Leicester
I would like to add that I am very please with the standard of work and speed in which this was carried out. I have no hesitation in recommending your compnay.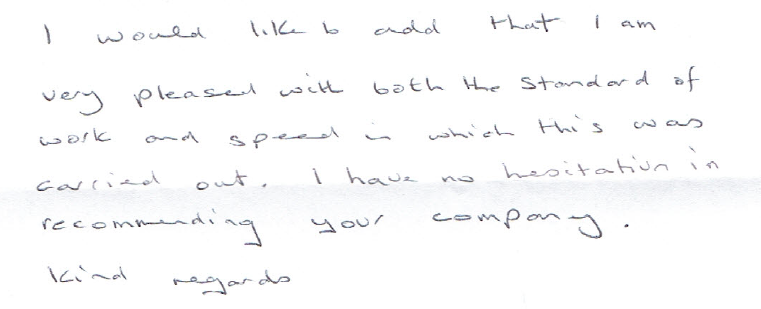 Mrs Lucas, Leicestershire
Just a quick note to thank you for sorting this so quickly. My wife reports that the member of your team that popped around was extremely helpful and provided great customer service.
Mr Cooper, Great Glen Leicestershire
I would like to take this opportuity to thank the team at Roofwise for their hard work during the installation of our new factory roofing system. The work your team carried out was second to none, both in terms of quality and customer service. Thank your kindly.
Mr Shin, Leicester

Colin Favell, Rothley, Leicestershire
Excellent and very professional work carried out. Should the need arise I will using you again and will be recommending y ou to anyone in need of roof work.
Mr Win, Wigston Leicester
Please pass on my thanks to your staff for carrying out the job in such a professional manner - I am very pleased with the speed and quality of work undertaken, and the guys themselves were always courteous and worked well.
Mr Fingerhut, Loughborough, Leicestershire
I have enclosed photographs of the completed work to go with the photographs you took prior to starting. I would just like to thank you and your dedicated team for completing a very successful project in a most professional way. I shall not hesitate to recommend 'Roofwise' to all our friends.

Mr Hemson, Milton Keynes
I thought I would take the time to write in to say how pleased I was with the recent work carried out by the Roofwise team. I think you have a very efficient and courteous organisation from the minute I requested a roof survey, receiving the quote, handling my queries on the quote through to work completion.
I was very nervous at first as I am a person who will always look for quality workmanship with value for money and am naturally very meticulous and attentive to detail whenever I have work carried out by contractors. My nervousness was dispelled finally once I saw the way Craig and Chris work.
I am confident that there will be no problems with the work carried out as I feel sure in case I do have to call Roofwise out if there is a problem that Roofwise would deal with this just as courteously and professionally as the original work.
You should also know that Roofwise was selected carefully after getting quotes both cheaper and higher. I also contacted the Fair Trades organisation to obtain a complete reference to Roofwise workmanship etc. I will have no hesitation in recommending Roofwise to my family and friends should they require roofing works in future.
Mr Patel, Leicester
Thank you very much for carrying out the work on our roof. We are very please and would recommend you to others.
Helen Ledger, Northampton